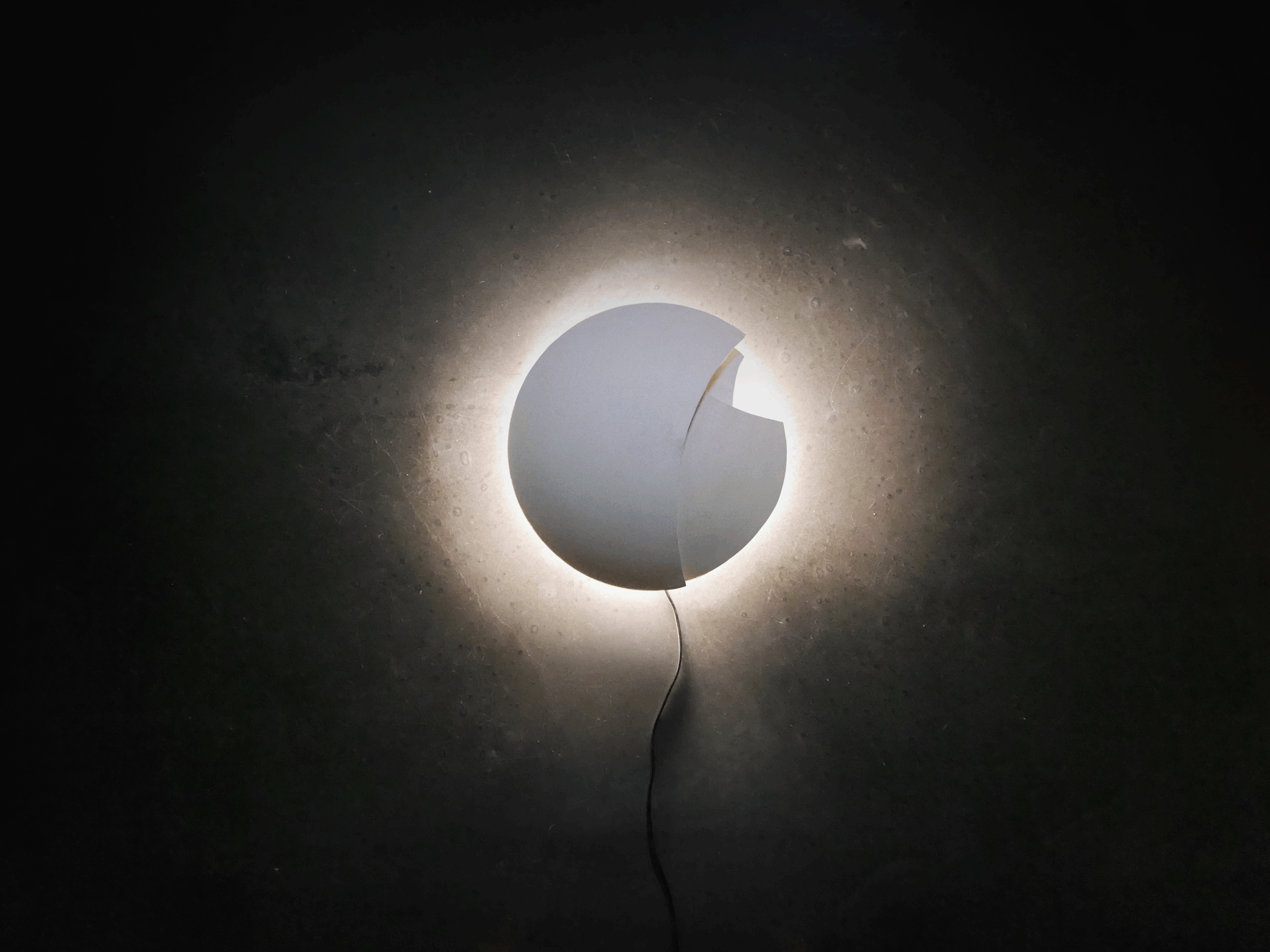 CYNTHIA
7e CONCOURS REVELATEUR DE TALENTS
"Le mouvement - catégorie: Luminaires"
Design
​
2013
​
Collectif IF // Cinzia Campolese, Marguerite Anthonioz, Régis Mandrillon, Erminio Alekos Serpente
​
CYNTHIA donne un rythme poétique aux heures qui s'écoulent.
Le principe de Cynthia consiste à compenser l'absence de lumière naturelle.
Cynthia est un prénom d'origine grecque, utilisé par les poètes, comme Shakespeare et aussi Galileo, comme appellation de la Lune. Cette lampe s'inspire d'une éclipse solaire, elle est la rencontre entre la lune et le soleil.
Elle est composée de quatre éléments principaux, un socle et trois coupoles tronquées en partie pour diriger la lumière; la première est fixe et les deux autres sont mobiles.
La forme de ces dernières s'inspire des phases partielles d'une éclipse.
Le socle contient un mécanisme d'horlogerie, qui fait tourner les éléments selon un rythme de 24 h et sert aussi de support pour l'éclairage (système de Led).
Cynthia est en en céramique, émaillé blanc brillant avec porosité mat.
//
Cynthia gives a poetic rhythm at the hours that ticked by.
The main principle of the lamp is to compensate the absence of natural light during the day.
Cynthia is a first name with Greek origin, use by poets, such as Shakespeare and also Galileo, to refers to the Moon.
This lamp is inspired by a sun Eclipse, the meeting between moon and Sun.
It's made up of of 4 main elements, a socket and 3 half domes that guide the light during the day. The first dome is fixed and the 2 others are mobile.
The shape of the latest domes is inspired by the partial eclipse's phases .
The socket has a clockwork mechanism that rotated the domes follow a 24 h rhythm ; and it is also used for a lighting support that is provide by a LED system.
Cynthia is in ceramic, enameled white with matt porosity.